Zinc Plating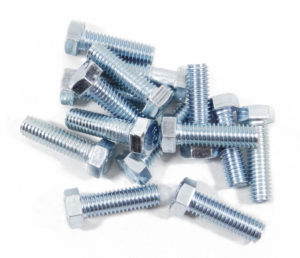 Zinc plating provides a protective layer on metal surfaces, defending against rust by preventing moisture and debris from coming in contact with the base material. Having been used for over 100 years, this sacrificial coating will corrode long before the metal substrate it is protecting, increasing the lifespan of the metal.
This cost effective and efficient plating process is an eco-friendly alternative to cadmium. Zinc Plating achieves a clean, bright finish that is both uniform in its appearance and aesthetically pleasing. Chromate conversion coatings and post treatment sealers can be added to increase the longevity of the finish.
Zinc Coatings can be deposited utilizing an alkaline (non-cyanide) electrolyte or an acid (chloride) electrolyte. The choice of electrolyte impacts product appearance and performance as outlined below.
Alkaline Zinc Plating Systems operate at 60-80% efficiency and have the advantage of producing uniform thickness across a wide current density range. The deposit has good ductility and can be used on parts requiring post plate forming. The inherent alkalinity of the bath reduces the post plating corrosion tendency of unplated surfaces such as interior diameters of tubular components.
Acid Zinc Plating Systems deposit faster and have efficiencies 20-30% higher than Alkaline Zinc Plating Systems. As a result of these higher efficiencies, Acid Zinc can be deposited directly over a wide range of metallic substrates. Deposits generated by these systems exhibit substantially higher variation in plate thickness compared to Alkaline Zinc.
---
Alkaline Zinc Common Uses:
Tubular components
Complex stampings and assemblies
Light tolerance applications
Components requiring post plate forming
Examples: brake fittings, cooling pipes, transmission fittings, mounting brackets, fasteners
Acid Zinc Common Uses:
Cast iron substrates
Simple stampings
Examples: brake calipers, knuckles, mounting brackets
---
Zinc Plating Advantages:
Bright appearance
Durable finish
Thin film
Low cost
Temperature tolerance
Recyclability
Low stress deposits
Ductility/flexibility